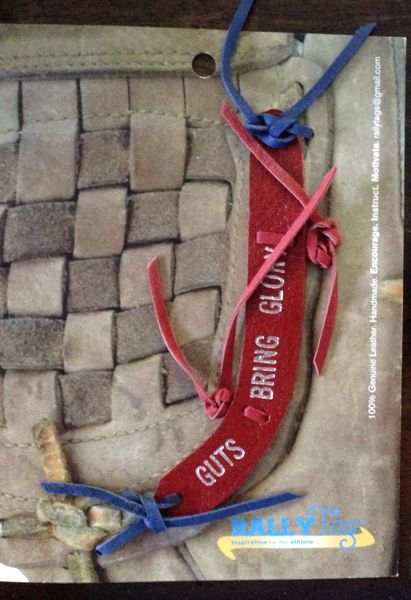 Guts Bring Glory
"Guts Bring Glory" RallyTag®
RallyTag® glove accessories quickly and easily lace onto every style of baseball and softball glove. 
You've trained hard for your sport. You've got talent. You love the game. But sometimes it takes guts to pull off that game changing play. Now you can look down at your glove for that special inspiration. "Guts Bring Glory".
RallyTags® lace onto your glove without having to untie a single knot. Just poke your RallyTag's laces through the permanent laces that surround your glove's pocket, on the thumb side, and tie a secure knot.

Custom Colors Available. Chose from 14 leather colors, 7 font colors and 7 lace colors. 
A symbol can be added to the end of this stock RallyTag free of charge.